GetFitKit
Perfect for At-Home Workouts!
Your Solution For:
Total Body Workouts • Enhance Muscle Tone • Improve Cardiovascular Health • Increase Flexibility • Attack Fat
For Quick & Easy Workouts…
The GetFitKit™ is perfect for staying in shape in today's busy world. It's flexible enough for people at all fitness levels and all lifestyles. You can take this workout anywhere you choose, your living room, a local park, or a hotel room. Fitness professionals are recommending this premium fitness kit to people looking for an affordable, easy to use, portable workout system. Get Fit with the GetFitKit™ today!
Our GetFitKit™ comes with a Travel Bag!
The GetFitKit Includes:
(Please follow the list of product directions below to help you get set up)
1 - Resistance Bands
4 levels of high quality resistance tubes (5lbs, 10lbs, 15lbs, 20lbs) 
Mix and match bands to create desired resistance ranging from 5-50lbs
Elastic tubing should be securely attached to hand or foot before use to avoid slippage and possible injury
When using this product, the tube will be stretched up to 3 times in length. Do not over stretch
2 - Ankle Strap
Before using the ankle strap, make sure resistance band is secure for safety. Once safely secured, take open strap and wrap around upper ankle and secure with Velcro strip. Pull on strap to make sure it is safely secured around the ankle. Once strap is secure around ankle, take resistance band and attach the clip to the metal ring on ankle strap. Once attached, ankle strap is secured and ready for use.
3 - Handles
Soft grip, designed for comfort and durability
Attach handles to the resistance bands by clipping them into the metal rings
4 - Stability Ball and Pump
Be sure to wear appropriate exercise clothing and footwear such as sneakers or exercise shoes
Remove all objects from your body (rings, watches, etc.), clothing with pins, buckles, belts, etc. and pocket contents such as keys, pens, pencils, etc. that could potentially puncture the ball during use and afterwards when stored
Mount, dismount and change position on your ball slowly. Due to the round ball shape it could roll out from under the user with quick movements and possibly result in injury
5 - Door Anchor
Open door, insert the thick end of anchor through door on hinge side
Close and lock the door, leaving the thin open ended side of anchor hanging through the door at desired height
Pull on anchor to ensure that it is secure for safety
Slide the handle through the anchor opening
6 - Speed Jump Rope
Adjust the length of the jump rope to fit your height
Keep elbows close to ribs. Don't choke up on the handles
Allow ankles, knees, and hips to flex when landing
Keep jumps low. Hold hands waist-high
Turn the rope mainly by rotating wrist
Turn the rope first, jump second
TIP: Always warm up with a light jog and dynamic stretching to get your body and muscles ready to train.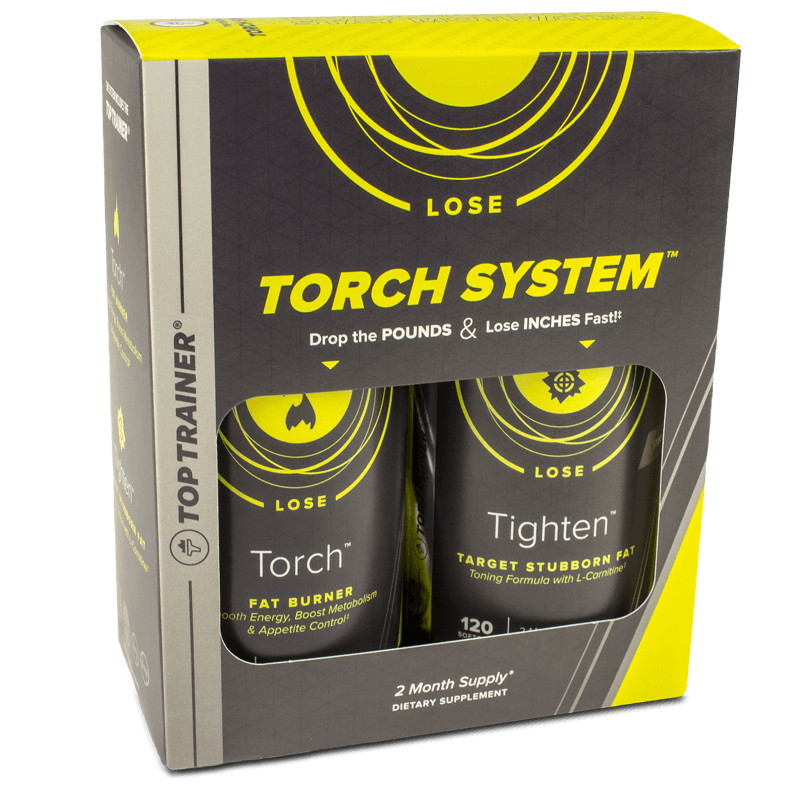 This aggressive one-two punch attacks stubborn fat by elevating your metabolism and helping you feel satisfied with smaller portions.  The Torch System™ comes with a FREE Top Trainer pill box!